Philorgue
---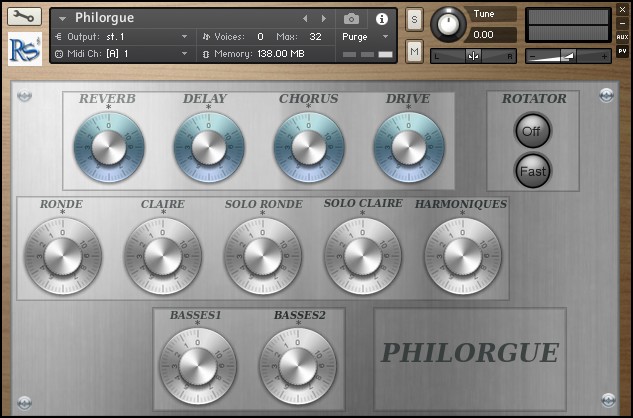 Thank you to Serge Gora for his help.
---
New price 20 euros

10 Euros




---
Demo : (Nino : Music Frédéric Bégnon) Made with Philorgue & Cliketap without external effects.
---
Philorgue is the new virtual instrument for kontakt5 Native Instruments created by Rossignol-Studio. http://www.rossignol-studio.fr/
This is a vintage electronic organ to the typical sound of the years 50/60. The samples are part of the work of Dominique Lacaud Site ODFGRANDORGUE.
The keyboard is split into two areas:
The first is for solo and / or accompaniments: Blue Zone
Ronde C0 to C6
Claire C0 to C6
Solo Ronde C0 to C6
Claire Solo C0 to C6
Harmoniques C0 to C6
The second is dedicated to low: Green Zone
Basses1 C-1 C1
Basses2 C-1 C1
The interface consists of buttons volumes different sounds: Ronde, Claire, Solo Ronde, Solo Claire, Harmoniques and two Basses buttons.
Three volume buttons effects are added to the GUI: Reverb, Delay and drive.
An on/off button allows activate/bypass the Rotator (leslie simulation cabin) and a switch that toggles the slow speed fast as controllable via two keyswith in A-2 and Bb-2.
The samples are 16-bit 48khz compressed in .ncw format.
Philorgue is, as previous instruments Rossignol-Studio, easy to use, cheap and natures sounds.
Windows 7, Windows 8 or Windows 10
Intel Core 2 Duo ou AMD Athlon 64 X2
4 Go RAM
Mac OS X 10.9, 10.10 ou 10.11.1
Intel Core 2 Duo
4 Go RAM
Kontakt5 is required for this soundbank (Kontakt player is only free up to 15 minutes)
After making your payment, a download link will be available for you from the transaction and your invoice will be sent by email with a new download link. It can take some time.
Once you download the tool, unzip the zip file, put it in your folder where your Kontakt instruments. In some cases, during the opening of the instrument in Kontakt, it asks to indicate where the samples are. It will then be sufficient to indicate the path of the instrument file and save.
---
Any type of card payment via PayPal is possible (not mandatory Account).
Follow the process, PayPal will offer you a card payment if you do not have an account.