Barbariz 3

---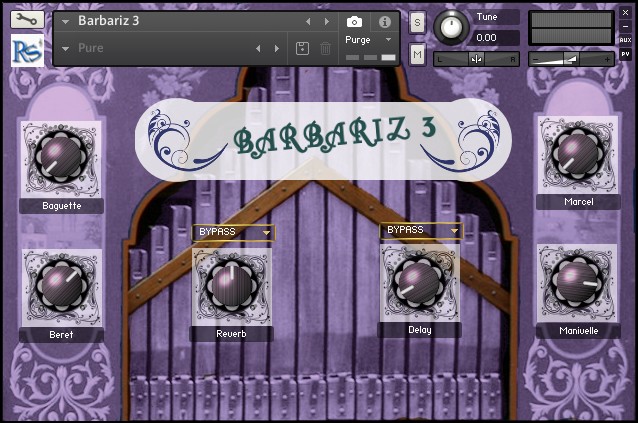 Thank you to Serge Gora for his help.
---
 20 Euros

---
Barbe à riz (Gérard Delassus)
Demo : Some presets no effect.
---
                                                                                   Kontakt instrument: 3 Barbariz
After Barbariz, Orgambou & Barbariz II Barbariz 3 is the new barrel organ created by http://www.rossignol-studio.fr/ for Native Instruments kontakt5.
This organ will delight all those who seek the typical sound of mechanical machines. The three different sounds can be used alone for realism or can be mixed at will to get closer to limonaires.
One more step has just been taken to the realism of these street instruments.
The interface consists of six buttons and two menus.
Three volume buttons for the three sounds:
The extent of these Voices covers the keyboard part of the B-1 at E3.
Finally a volume knob to crank the sound complements the interface of this Barbariz 3.
This noise will loop handle which can be activated and deactivated by pressing the C-1 to Eb-1.
Many presets of reverb and delay effects concocted by Serge Gora are available via both menus to mix with their volume knob.
Some snapshots are offered as an example.
The samples are 24bit 96KHz.
This instrument was created from two real barrel organs. (Courtesy of the site ODFGRANDORGUE.)
Windows 7, Windows 8 or Windows 10
Intel Core 2 Duo ou AMD Athlon 64 X2
4 Go RAM
Mac OS X 10.9, 10.10 ou 10.11.1
Intel Core 2 Duo
4 Go RAM
Kontakt5 is required for this soundbank (Kontakt player is only free up to 15 minutes)
After making your payment, a download link will be available for you from the transaction and your invoice will be sent by email with a new download link. It can take some time.
Once you download the tool, unzip the zip file, put it in your folder where your Kontakt instruments. In some cases, during the opening of the instrument in Kontakt, it asks to indicate where the samples are. It will then be sufficient to indicate the path of the instrument file and save.
Snapshots installation :
Unzip the file Barbariz 3 content in the Snapshots folder and place it in the following Repertoir:
C:Users<your username>DocumentsNative InstrumentsUser ContentKontakt
HD/Users/<your username>/Documents/Native Instruments/User Content/Kontak
---
Any type of card payment via PayPal is possible (not mandatory Account).
Follow the process, PayPal will offer you a card payment if you do not have an account.