Francinium
---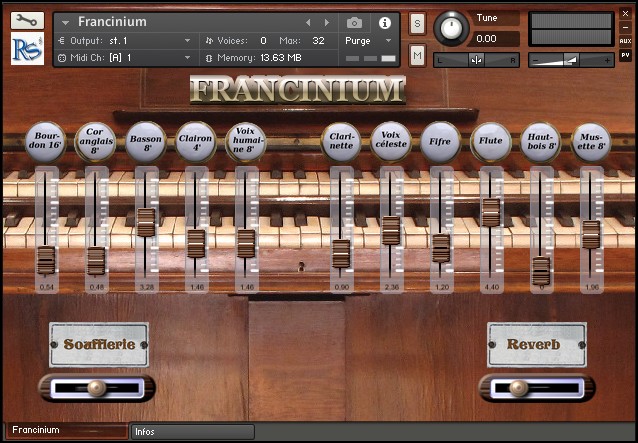 Last update 03/09/2016
---
20 Euros

---
Demo : Francinium, VSL, Pianoteq
---
Francinium is the new virtual instrument for kontakt5 Native Instruments created by Rossignol-Studio. http://www.rossignol-studio.fr/
It is a French harmonium from the work of Dominique Lacaud ODFGRANDORGUE.
The keyboard is split into three areas.
The first is dedicated to low and / or accompaniment: Green Zone
Bourdon 16' C-1 to G1 almost 3 octaves
Cor Anglais 8' C-1 to G1 almost 3 octaves
Basson 8' C-1 to G1 almost 3 octaves
Clairon 4' C-1 to G1 almost 3 octaves
Voix humaine 8' C-1 to G1 almost 3 octaves
The second is dedicated to the song: Blue Zone
Clarinette F-2 to E5 almost 3 octaves
Voix céleste F-2 to E5 almost 3 octaves
Fifre F-2 to E5 almost 3 octaves
Hautbois F-2 to E5 almost 3 octaves
Musette F-2 to C5 almost 3 octaves
The third is dedicated to the bellows: red zone 2 and A-Bb-2
The interface is composed of the drawbars different sounds, a slider for reverb and another for the volume of the bellows.

The samples are .WAV 16bit 41.1 kHz. 103 Mo (ZIP 91,7 Mo)

Francinium is, like previous Rossignol-Studio tools, easy to use and nature sounds.

Windows 7, Windows 8 or Windows 10
Intel Core 2 Duo ou AMD Athlon 64 X2
4 Go RAM
Mac OS X 10.9, 10.10 ou 10.11.1
Intel Core 2 Duo
4 Go RAM
Kontakt5 is required for this soundbank (Kontakt player is only free up to 15 minutes)
After making your payment, a link will be sent with your invoice. It can take some time.
Once you download the tool, unzip the zip file, put it in your folder where your Kontakt instruments. In some cases, during the opening of the instrument in Kontakt, it asks to indicate where the samples are. It will then be sufficient to indicate the path of the instrument file and save.
---
Any type of card payment via PayPal is possible (not mandatory Account).
Follow the process, PayPal will offer you a card payment if you do not have an account.