Bouche à beat
This sound bank is now free

---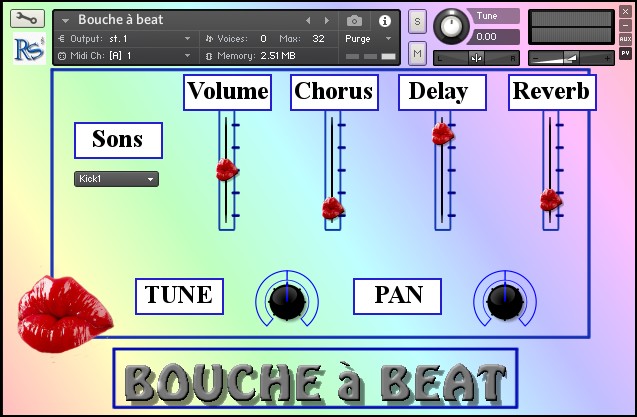 ---
Free

---
Demo : Bouche à beat, Versophone, Barbariz & Reaktor
---
Bouche à beat is an instrument based on samples made entirely in the mouth. This is a simple and fun beatbox that allows you to create fun rhythms.
18 24 bit 44.1 KHz to 16 independent groups. Pan faders and a tone for each sound *. 1 volume fader and effects faders 3: reverb, chorus and delay for each sound.
*Toms are on the same group
Windows 7, Windows 8 or Windows 10
Intel Core 2 Duo ou AMD Athlon 64 X2
4 Go RAM
Mac OS X 10.9, 10.10 ou 10.11.1
Intel Core 2 Duo
4 Go RAM
Kontakt5 is required for this soundbank (Kontakt player is only free up to 15 minutes)
---
After making your payment, a link will be sent with your invoice. It can take some time.
Once you download the tool, unzip the zip file, put it in your folder where your Kontakt instruments. In some cases, during the opening of the instrument in Kontakt, it asks to indicate where the samples are. It will then be sufficient to indicate the path of the instrument file and save.
---
---
Any type of card payment via PayPal is possible (not mandatory Account).
Follow the process, PayPal will offer you a card payment if you do not have an account.