Barbariz II
---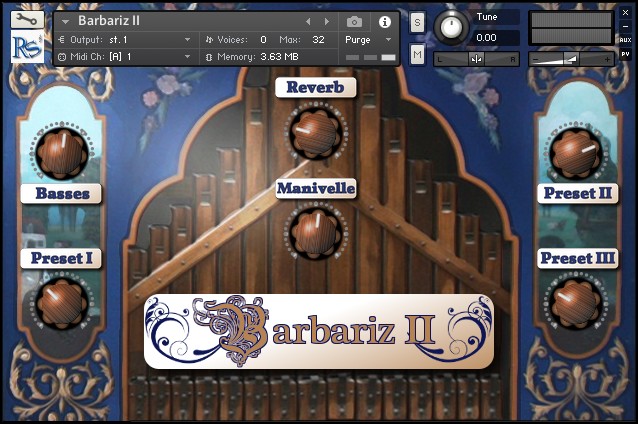 ---
15 Euros

---
Demo : All sounds are created from Barbariz II
---
Barbariz II is the brother of Barbariz, barrel organ created by http://www.rossignol-studio.fr/ kontakt5 for Native Instruments.
All sounds of this organ are different from the first Barbariz. A little rough and thus with its own identity.
The interface consists of six buttons, four for organ sounds:
A bass button C1 to B1.
Three buttons for other sounds of four octaves C2 to G5.
A button reverb and finally a final button to the sound of controllable handle on G0 keys A0.
As for the first Barbariz, each register can be mixed at will which offers a range of barrel organ sounds of varying colors.
The samples are 24bit 96KHz.

This instrument was created from an real organ of 36 notes.
(Courtesyof the site ODFGRANDORGUE.)
Windows 7, Windows 8 or Windows 10
Intel Core 2 Duo ou AMD Athlon 64 X2
4 Go RAM
Mac OS X 10.9, 10.10 ou 10.11.1
Intel Core 2 Duo
4 Go RAM
Kontakt5 is required for this soundbank (Kontakt player is only free up to 15 minutes)
After making your payment, a link will be sent with your invoice. It can take some time.
Once you download the tool, unzip the zip file, put it in your folder where your Kontakt instruments. In some cases, during the opening of the instrument in Kontakt, it asks to indicate where the samples are. It will then be sufficient to indicate the path of the instrument file and save.
---
Any type of card payment via PayPal is possible (not mandatory Account).
Follow the process, PayPal will offer you a card payment if you do not have an account.